News and Info to Help You Get Comfortable No Matter The Weather
When searching for \"HVAC Company Near Me\" or "Air Conditioner Service Near Me", this is What You Should Look for in a Service Company.
Have you typed HVAC company near me or air conditioner service near me into a search bar and not known how to choose from the results? Whether you are a new homeowner or an existing one experiencing heating and cooling troubles for the first time, you've found yourself in need of a good HVAC company. And, if you're like most people, your first stop is Google.
But once you've searched for an HVAC company near me or air conditioner service near me in your area, then what? How do you make the best choice from the list? From questions to ask to how to evaluate reviews, you'll find answers below.
Need to find a trustworthy heating and air conditioning repair company in the Canton, GA area?
Russell Heating and Air has a reputation for reliability, value, and customer satisfaction.
6 Boxes to Check to Find the Best HVAC Services Company
No matter what area you're located in, there are certain markers of quality when it comes to heating and air conditioning companies. Continue reading to find six criteria you should consider before hiring an HVAC maintenance company to repair your air conditioning or heating unit.
1. Licenses and certifications
Heating and cooling companies in the industry require proper licenses to be able to serve their customers. These licenses/certifications are a symbol to assure their customers that the company's technicians who will be working on their heating and cooling systems have the appropriate skills, training, and experience. Georgia offers two kinds of HVAC licenses to service experts: Georgia HVAC License Class I and Georgia HVAC License Class II. Before applying for the Georgia HVAC License Class II, the future applicant should possess a minimum of five years of experience which includes two years of installation as a lead mechanic and a minimum of one year of commercial work experience, one year as a technician or supervisor, and two years of commercial supervisory experience.
While you are searching HVAC company near me or air conditioner service near me, you should ensure that the HVAC repair provider on your short list has these licenses. They should be open and willing to share their credentials. In addition to the licenses, the contractor should also be bonded and insured to protect homeowners in case of injury or accidental damage.  Apart from these, you should also look for the company's stability and experience because how long the company has been open does not alone assure that the HVAC tech will do the job right.
2. Dealing with home evaluation and cost estimation proposals
The search for an HVAC company near me or air conditioner service near me in your area is just the first step to find a solution to your heating and air conditioning problems. You must then go through a home evaluation or repair estimate by the potential service contractors to find the best heating and cooling solutions for your home. While the search phrases HVAC company near me or air conditioner service near me will get you many relevant options in your area, you might have to struggle a bit before finding the perfect fit. A home evaluation will give you an excellent chance to see if you have landed yourself the right HVAC services consultant who will help you find the best heating and air conditioning options for your home.
The factors that the technicians should check during your home's evaluation are the area of your house, the number of windows, the direction in which the windows are facing, and the appropriate R-value insulation. Short for Resistance-value, R-value measures how well a specific type of insulation can resist heat flow. This means the greater the R-value, the better the insulation for your climate and home.
Once the home\'s evaluation is completed, the prospective contractors will quickly estimate the costs involved for maintenance or installation, warranties, and energy efficiency details. The proposal the HVAC repair company suggests should offer the best quality and greatest energy efficiency. Operating your units with the greatest efficiency will help offset a heftier unit price tag by using less energy over time. Keep in mind to ask about these tiny but very crucial details while calling names from your search results.
3. Checking references and reviews
When doing an internet search for HVAC company near me or air conditioner service near me, you'll see a list of heating and cooling services and repair companies in the results. The best HVAC service experts provide high-quality work to serve their customers' needs. A reputable company will also have the company name emblazoned on their vehicles when they arrive. But how do you determine the quality of the company before you hire?
References and reviews significantly reflect the quality of services provided by a particular company. Based on the search results of searching HVAC company near me or air conditioner service near me, you'll have a list of potential repair consultants in your area to call. But before you start dialing, you can check the online reviews they received from their previous customers.  You can filter the reviews based on these criteria: whether the heating and cooling company contractor accomplished tasks within time and budget, performed a clean installation, respected the homeowner\'s property, and ensured the entire system worked after installation.
However, be aware that reviews are not always open and honest. Some of the glowing 5-star reviews can also be fake. One sign of fake reviews is when it is vague yet positive and does not mention any pertinent details. At the same time, harshly negative reviews can also be fake, posted by disgruntled former employees. Doing your homework and evaluating reviews to separate the fabricated from the authentic will go a long way in helping you find the right repair company.
In addition to reviews, the Better Business Bureau is a platform where you can find complaints registered for faulty and improper services from businesses. You can use this platform to even further filter out the potential candidates from your search results.
4. Availability of rebates, discounts, and special offers
Heating and air conditioning systems are expensive, so look for rebates on energy-efficient appliances, special offers and financing, or discounts that the HVAC company is providing. They should also be aware of any open tax incentives for upgrading to more modern units so you can tell your tax preparer. Simply searching for an HVAC company near me or air conditioner service near me in your area won't always tell you if they've got special offers happening. When you call a company, be sure to ask.
Russell Heating and Air is an HVAC company providing repair, maintenance and installation services to the Canton, GA and Woodstock, GA area. We've been open and serving since 2008 and offer a combined team experience of over 60 years. We regularly offer discounts and special offers, so be sure to ask when you call us. We are a service-oriented company with a history of reviews from satisfied customers. We have earned a BBB A+ rating for our top-quality HVAC services.
5. Ensuring the efficiency of equipment offered
Every homeowner should consider efficiency as one of the most vital aspects before buying new heating and cooling units when it is time for a repair or replacement. Make sure that you ask the company for the Energy Star rating of the unit. Energy Star is the government program that rigorously tests and certifies heating and air conditioning equipment for efficiency. If the unit provided by the company does not have an Energy Star rating, you might want to choose another company. The Energy Star sticker should also be displayed on the unit in an open manner.
Units that are not up to the Energy Star rating standards leave you open to losing money thanks to an inefficient unit racking up high utility bills after installation. From your list of results from searching HVAC company near me or air conditioner service near me, see that you choose the one that adheres to supplying units with proper Energy Star ratings.
6. Air conditioning, furnace, and ventilation guarantees
An essential thing to understand while choosing an HVAC company is the different types of guarantee coverages they will be providing. These should include air conditioning repairs, installation of new air conditioning units, installation of new furnaces, furnace and heat pump repair, ductwork cleaning, routine maintenance and other services. HVAC companies will have refund policies for errors, omissions, and defective equipment. Before booking, make sure you get those policies in writing in case you need to make a claim. Find out exactly what they cover, how long the warranty lasts, and how much money you can get back. Any reputable HVAC repair company will guarantee their work. If they don't, you'll want to find a different contractor.
New equipment will be fully warrantied, but the length of the warranty will vary from unit to unit. Your HVAC company should provide a guarantee for installing properly-sized equipment to deliver the correct temperature for the size of your house. These warranties from your HVAC company will ensure that if the technician cannot install the right sized unit you will receive a replacement or free installation. They should also offer guarantees for the protection of your property while installing both outdoor and indoor units. If anything is damaged while the technicians work, then the guarantee will cover a replacement or repair.
The manufacturer's warranty that comes with the heating or cooling unit will ensure a replacement or repair if the air conditioning or furnace does not maintain proper temperatures. But you'll have to question each company regarding the guarantees they provide for their work before proceeding.
Don't sweat your air conditioning repair. Call Russell Heating & Air today.
(678) 324-8210
Now that we've covered the general list, let's get into a few more details as they relate to air conditioning and heating services, repair and maintenance. Especially when you're going to be laying out a lot of cash for repair or replacements, you'll want to make sure you've got the right company on the job.
A few things to keep in mind when searching for an HVAC company near me in your area.
Especially in a warmer area like Georgia, your air conditioning function is absolutely critical. But it can also get bitterly cold in the winter, making keeping your furnace in good repair just as important. Your HVAC influences temperature, humidity, ventilation, and air purity in the indoor environment all year round, with your safety and comfort as the highest priority. An HVAC unit's main aim is to achieve the delicate balance between finding your family's comfort while controlling operating costs.
Here is a list of the key performance measurements that you should keep in mind when searching for air conditioner service near me:
1. Air handling equipment
You can imagine an HVAC unit like the cardiovascular and respiratory system of your home. The unit's job is to supply clean and conditioned air to all the parts of the house. This system's heart is the air handler, which is where the outdoor air that is drawn in is filtered, conditioned, and mixed with return air getting distributed through a network of ducts to and from various parts of your house. The air handler includes a lot of basic components that help in conditioning and distributing the air evenly throughout the building. These include dampers, fans or blowers, heating and cooling coils, air filters, boilers or furnaces, compressors, ductwork to convey the air, and diffusers or registers. The process is controlled via a number of control mechanisms like thermostats, sensors, and actuators.
When you finalize your choice from the search results of HVAC company near me or air conditioner service near me for home evaluation, ensure that you discuss the details of positioning the air handler in your home.
2. Air velocity
To introduce, distribute, recirculate, and exhaust the air back and forth in your house, a fan is used. In order to check if the ventilation system is functioning well and the air is being distributed as expected, air velocity has to be periodically checked at various points. Measurements should be taken down for both the supply and the return side of the system. Your family's comfort and health depend upon the open movement of air in your house and its velocity.
3. Ventilation
The amount of fresh air delivered inside the building is referred to as ventilation. To conserve energy, generally, the air handler recirculates air and mixes it with some amount of fresh air. This addition of fresh air dilutes any amount of airborne contamination that may be present indoors and helps exhaust it outside faster.
A good company that specializes in HVAC installation, repair and maintenance will know the critical importance of having the perfect ventilation system for a healthy home and a healthy family. During your home evaluation, ensure that the company you choose from the search results you find by searching HVAC company near me or air conditioner service near me in your area can perform this important job.
Feeling a chill in the air? Have your furnace maintenance done before it becomes an emergency repair.
Contact Us for HVAC Services in Cherokee GA
4.   Air volume and number of changes
According to ASHRAE Standard 62, there is a recommended volume of fresh air that has to be supplied to the various parts of your house. These values depend on the total number of people living in the house and the general nature of activity inside the building. This value is typically expressed as cubic feet per minute (cfm), cubic meters per hour (m3/hr), or litres of air per minute (l/min) per person.
The company in your area that you choose from your HVAC company near me or air conditioner service near me search should understand the nuances of a perfect air volume and ventilation system and provide you with the best option possible for you and your family.
5.   Thermal Comfort
Perception of thermal comfort is a quality that will vary from person to person. It is influenced by a combination of temperature, humidity, and airflow. It can also be affected by parameters outside of the HVAC system, such as time of day, activity level, clothing, and the number of individuals in a space. The ASHRAE Standard 55 recommends "comfortable" temperature to be within 74 to 82F (23 to 28C) during the summer and 68 to 78F (20 to 25.5C) during the winter. Generally, the indoor relative humidity level preferred by people is between 30 and 65 percent.
The existence of a differential pressure condition between spaces, if high enough, creates what is perceived as a draft, such as when you open a window. Drafts are essential as their complete lack can cause people to feel stuffiness or stale air. However, drafts have to be maintained at the correct speed so as to not be high enough to be noticed by the occupants of the house. Generally, drafts below 40 fpm (0.20 m/s) are not detected by people, and, therefore, maintaining levels close to these values is recommended.
6.   Airborne contaminants as related to Indoor Air Quality (IAQ)
Some substances can become airborne and can pose threats to your health. These particles can get inside your respiratory system and lead to a number of health problems that can range from temporary irritation to chronic issues and even death in extreme cases. These particles can be gases or chemical vapors such as CO, NOx, SOx, volatile organic compounds (VOCs) and radon. Very small particles less than 4 microns in diameter can be taken in through inhalation. Biologicals, which include animal parts such as skin particles, as well as bacteria, viruses, and plants such as fungi, mold and pollen can also contaminate indoor air.
While all three of these categories are harmful, some people might be acutely allergic to these substances. Talk to your potential HVAC services company to see what recommendations they have for ensuring better indoor air quality. In the Canton and Woodstock areas in Georgia, Russell Heating & Air can provide top-quality air filtration and cleaning recommendations to help protect your family. [link to contact]
7.   Differential Pressure
The small airborne particles and gases present in the air get transported by its movement and migrate from a high differential pressure area to a lower one. Therefore, the key to controlling this migration of unwanted contaminants is by managing differential pressure between the inside and outside and between different areas of the building. This is done by regulating the volumes of supply and return air. This makes verifying and maintaining your home's building pressures very essential to prevent the infiltration of outdoor contaminants and moisture into your house.
Maintaining the house's differential pressure is critical as not doing so can negatively impact the occupants' quality of life and may cause accidents. The air pressure inside a building also controls the opening and closing of the doors to the outside. If the pressure is not maintained, it can make it difficult to open and close doors. This, especially in the case of the elderly or disabled family members, can lead to emergency scenarios and is therefore a significant concern.
8.   System Pressure
Air pressure is a crucial part as well as a common issue faced by heating and air conditioning systems. An HVAC unit's system pressure has three components: static pressure, which is the driving force to move air; velocity pressure, which is the extra force applied whenever there is an obstruction in the path of the air; and finally, the total pressure that is the sum total of static and velocity pressure. The fans and blowers tasked with meeting the requirements of adequate air distribution have particular characteristics such as size and rotational speed. Your HVAC company should see to it that your system pressure is properly controlled, and if not, recommend the most effective solutions.
9.   Air Filters
Among the very important components of your HVAC systems are the air filters. These filters perform the highly crucial task of capturing any particles present in the air and preventing them from entering the conditioned air stream. Changing your filters regularly is something you as a homeowner can handle on your own, in addition to some other basic maintenance tasks.
Filters can be of many types, sizes, and configurations, depending on the application. They can be made of different media such as paper, sponge, foam, spun glass, and pleated woven bags. You can also select the electrostatic particle arresting types of filters that include electrically charged filter media that effectively attract and capture unwanted particles. You may want to try the popular activated charcoal filters that also eliminate any unwanted smells. They should always be used with a particle filter. The correct choice of filters can influence your health as well as that of your family and should be discussed with your HVAC technician.
Be sure to do a little research on your own if you aim to find the best HVAC company for your house evaluation and subsequent maintenance, repair or new installation. Therefore, when you search your area for an HVAC company near me or air conditioner service near me, be mindful of the points discussed above. The technician should be able to answer all your questions.
Finished sorting the results of HVAC company near me or air conditioner service near me? Here's what's next.
Once you've searched HVAC company near me or air conditioner service near me, reviewed your results and narrowed your options down to a few choices using the above criteria, it's time to make some phone calls. Be ready to pay careful attention to the entire process, from making the first call until finishing the installation process. As you speak to each HVAC service expert ask them some critical questions based on your current needs. You could begin by figuring out the correct size of the unit for your house. You will also want to see whether the warranties provided would cover labor, materials, and equipment.  Also, inquire if the promises made will be given in written form, how the warranty work will be done, and if there will be an expense to you.
What began with typing HVAC company near me or air conditioner service near me and clicking search might be a long process before you can enjoy the smooth and efficient working of your HVAC units. But whether the process is tedious and painful or seamless and convenient will all depend on who you hire as your furnace and air conditioning services expert. For a personally satisfying experience from a customer-focused HVAC company with great communication and excellent ratings in the Woodstock and Canton area in Georgia, call Russell Heating and Air today.
Air conditioning maintenance is critical to the longevity and functionality of your AC system. Since its invention in the early 20th century, air conditioners have become essential for many Americans to breathe cleaner air and combat the summer heat indoors. According to the EIA, 87% of the homes in the United States use air conditioning
The following 5 AC maintenance tips may keep your AC unit running smooth for years Your air conditioner manages the temperature, removes excess humidity, helps eliminate the mold and musty odors, and provides improved air quality indoors. To ensure that your AC performs all these tasks for a long time, you need to routinely maintain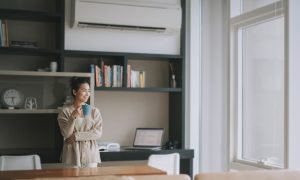 HVAC (Heating, Ventilation, and Air Conditioning) is a system responsible for safeguarding your comfort and indoor air quality. Whether it\'s a home, retail store, warehouse, office building, or any other indoor location, a smoothly functioning HVAC system provides you a secure and relaxed environment to live and breathe in. The main aim of installing an
In our day-to-day lives, we face various environmental pollutants that pose a considerable health risk. No place is entirely safe from the harmful effects of air pollution, whether it\'s our home, school, office, or anywhere else. Most of us try to avoid outdoor air pollution as much as possible by simply staying inside. According to
When searching for \"HVAC Company Near Me\" or "Air Conditioner Service Near Me", this is What You Should Look for in a Service Company. Have you typed HVAC company near me or air conditioner service near me into a search bar and not known how to choose from the results? Whether you are a new
Every homeowner should understand that basic furnace maintenance isn't rocket science and should not feel overly intimidating. Replacing or repairing HVAC units can be expensive. If your system breaks down, it could leave your home without heat for days or weeks. Maintenance should be performed about every three months to avoid common problems with your