Installation, Maintenance, and Repair
A majority of households in the US are now using HVAC. Its major function is to maintain the right temperature and humidity level. While we talk about the temperature, it becomes important to note that the thermostat of an HVAC system must work properly because it helps in maintaining the right temperature.
A thermostat is an integral part of the HVAC system as it helps in maintaining the right temperature level. There are different types of thermostats available in the market, so, if you are planning to install one, then you must know about the different variants:
Line Voltage Thermostat – It is used to regulate the system that uses electricity for heating.
Low Voltage Thermostat – It is used to regulate systems that rely on central furnaces.
Of the different types of thermostats which are available in the market, the one which is most common is the manual thermostat. These are not very expensive yet reliable. Most of the homeowners use this thermostat in their HVAC system.
What Is A Smart Thermostat?
A smart thermostat is a device that is used for controlling the heating and air conditioning in a home. It allows you to control the temperature of your home as per a schedule set by you. It has a number of additional sensors that keep a track of the conditions and make changes accordingly. The most important thing about a smart thermostat is that it has WiFi connectivity. You can connect the device with WiFi and control it from anywhere.
A smart thermostat can detect whether there are any occupants at home or not. If there are no occupants, it can put the air conditioning device on standby and save electricity. You can also control it through your smartphone thus giving you more power to manage your devices and save electricity bills.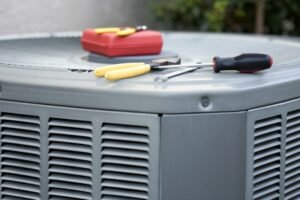 How Does A Thermostat Work?
Smart thermostats are equipped with infrared sensors that detect whether you are at home or not. Infrared signals detect regular activity in the house by tracking motion. In case there are no occupants at home, a smart thermostat puts air conditioning on stand-by.
Many learning smart thermostats track daily activities to learn the schedule of occupants and set the temperature of the house accordingly. Many smart thermostats have also started using geofencing technology to detect whether the person is home or not.
Smart Thermostat Installation
Russell Heating and Air specializes in all kinds of smart thermostat installation. Just dial our number and drop a message. We will get back to you for your smart thermostat installation.
We are just a phone call away. So, connect with us immediately to get your thermostat installed before the weather takes a turn.
Choosing an experienced technical team can be the difference between the proper functioning of the thermostat or issues in it regularly. We are known for our outstanding HVAC thermostat installation services. There are a number of reasons to choose us:
We provide upfront pricing
Round the clock services
Excellent customer support
Quick response time
With the advancement of technology, new products are launched to provide smart assistance with minimum inputs. One such device is a smart thermostat. It helps in controlling the temperature of the house by taking inputs from us from anywhere and everywhere.