AC Repair, Installation, and Maintenance
Air conditioning is a technology that helps in maintaining an optimum temperature within a closed space. Air conditioners remove heat and moisture from your home and make it comfortable for you to live inside. It can be used in both the domestic and commercial environment. It is also used to keep rooms with heat-producing equipment cool and dehumidified.
Air conditioners employ a fan to distribute the cold air evenly in the room to increase its efficiency. These can be of various sizes ranging from a small one for a single person to huge centralized air conditioners to maintain the optimum temperature in office buildings.
Air Conditioner Installation
Air conditioners have become a standard for homes in the US, especially in areas with a warm climate. You should know which air conditioner is best suited for your home depending upon the dimensions of your rooms and consumption. Russell Heating and Air experts note dimensions and various other requirements before recommending you an air conditioner for installation.
We offer a wide range of efficient systems from 14 SEER (Seasonal Energy Efficiency Ratio) up to 26 SEER higher SEER systems that can provide a tighter and better-controlled temperature throughout the home while reducing energy consumption.
Air Conditioner Maintenance Services
Air conditioners keep the environment cool during summers. During winters these are mostly shut down and heaters are used instead. Before the arrival of next summer, it becomes important that you get the air conditioner serviced to prevent any problems during the peak season.
Air conditioners have always been criticized for adding to the electricity bills. Proper and timely maintenance can ensure that the air conditioner runs efficiently and provides effective cooling. If your air conditioner has started making noises or it takes a lot of time to cool your house, you should schedule an air conditioner maintenance service with Russell Heating and Air.
Our maintenance plans also include checking the furnace before the heating season.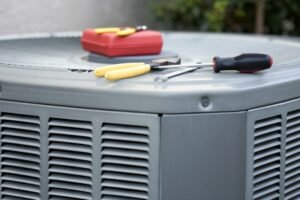 Your air conditioner might need immediate repair if there is a leakage, too many vibrations, and noise, condenser failure or issues in proper insulation. Russell Heating and Air experts can manage and maintain all such immediate repairs. If you are in need of AC repair, we are just a call away from you.