Installation, Maintenance, and Repair
Keep Your Cool with Canton, GA's Best Air Conditioning Service Company
When the Georgia heat is bearing down, there's nothing worse than an air conditioner that stops working. You count on your AC to remove heat and moisture from your building to make it comfortable for everyone to live or work inside. If your cooling system is not fulfilling this need, you have a serious problem on your hands.
Whether you are needing an urgent AC repair service or looking to upgrade your existing unit, Russell Heating and Air offers you an end-to-end solution for your cooling and heating needs. As experts in the area for over a decade, there is no situation or problem concerning HVAC service that we haven't dealt with before. If you have an emergency, be assured that our team of expert HVAC professionals will arrive ASAP to give you the much-needed relief from the heat.
Need urgent air conditioning repair? Canton, GA and surrounding area residents depend on Russell Heating & Air. Don't sweat it – call us today !
Air Conditioning: Not Optional in Georgia!
Air conditioning is no longer a luxury. It is a necessity. Homes and office spaces are expected to have an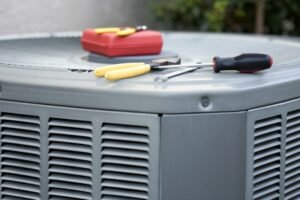 efficient cooling system, especially here in the south. AC is not only used for cooling during warm weather but is also used to keep rooms with heat-producing equipment cool and dehumidified. Whether you're relaxing at home or providing a comfortable work environment for employees, AC is not optional!
Air conditioners employ a fan to distribute the cold air evenly in the room to increase its efficiency. They can be used in both the residential and commercial environment. While the mechanics are simple to understand, cooling systems have evolved with customers' needs over the years and have moved far beyond the old window unit. Today you have options like central air, a split AC system or a ductless system. Whatever your needs are, there is a perfect cooling system available for you.
Russell Heating & Air is the trusted go-to choice for AC installation, maintenance and air conditioning repair in Canton, GA and the surrounding area. call us today !
Our Clients are Our Greatest Asset
When it comes to all types of heating and air conditioning repair in Canton, GA, clients trust the HVAC services provided by Russell.
Trustworthy AC System Installation, Maintenance and Repair Services
When it comes to your precious AC in the Georgia heat, you want to make sure you choose an HVAC service company that can do it all. Russell Heating & Air is a full-service company offering AC system installation, maintenance, and repair services.
Air Conditioner Installation Services
Heavy appliance installation, including AC units, should always be done by a trained HVAC professional. AC installation is a detailed and complicated process including the need for electrical knowledge. Adding to that complexity, modern air conditioners vary drastically in their build and size compared to their older and less efficient counterparts.
If you replace your old air conditioner with a new one, you might be surprised to find that your new unit is much larger. Most new ACs come with a larger coil, which makes them more efficient. So the current location of your AC might not accommodate the new unit. This is just one of the many scenarios where you will benefit from the services of an HVAC expert.
At Russell Heating & Air, we note dimensions and all your other requirements before recommending a new unit for installation. It is always better to consult an HVAC professional before buying a new AC unit to avoid a purchase you end up regretting. Keep in mind that improper installation can also lead to more repairs for your AC as well as potentially voiding the manufacturer's warranty.
We offer a wide range of efficient systems from 14 SEER (Seasonal Energy Efficiency Ratio) up to 26 SEER, higher SEER systems that can provide a tighter and better-controlled temperature throughout your home or office while reducing energy consumption.
Factors to consider before installing an AC
Here are some things to consider before purchasing your next AC unit:
Size: If the AC is too small, you'll have to run it continuously for adequate cooling, which will result in high electrical energy consumption and a skyrocketing utility bill. If the AC unit is too big, it will quickly cool but not dehumidify effectively, leading to an unpleasantly moist atmosphere. The right AC for the room size is an important consideration.
Cost: More energy-efficient ACs tend to be more expensive. However, they save on electrical bills by consuming a limited amount of energy, averaging out the cost in the long run. If you are concerned about budget, it is best to speak to an HVAC professional who can help you balance costs and efficiency. Remember, as tempting as it might seem to purchase the best available deal online for an AC, it may come with unexpected quality issues that can add costs.
Quality and Durability: An AC unit from a well-known brand offers reliability and staying power. They might be more expensive than a lesser-known brand, but tend to offer longer warranties and better overall customer service.
Additional Equipment: If your existing AC unit has stopped working, investing in a new one might seem natural. At times, additions or upgrades to your old unit can give a new lease on life to your AC and add a few more years to its lifespan. An expert can help you navigate this uncertainty and help you make the right decision.
Avoid buyer's remorse and discuss your needs with an HVAC professional before purchasing your new unit. If you are in the Canton, GA area,  give us a call today !
Air Conditioner Maintenance Services
Routine cooling system maintenance is essential to the upkeep of your unit. When you adhere to the recommended service schedule, you ensure the longevity of your AC, reducing expenses on future repair of the unit and lowering the risk of an unexpected failure that requires emergency attention. Changing or upgrading a unit's filters, coils, and fins is crucial to its effective and efficient functioning, as is routine electrical function checks.
Air conditioners keep the environment cool during the summer. During the winter, the furnace is generally used instead for heating. (But this is Georgia, so every now and then you may be running your AC over Christmas!) Before the arrival of next summer, it becomes important that you get the AC serviced to prevent any problems during the peak season. Air conditioning repair is inevitable, but with regular routine service, sudden breakdowns can be reduced.
Air conditioners have always been criticized for adding to the electricity bills. However, proper and timely maintenance can ensure that the cooling system runs efficiently and provides effective cooling without adding unnecessary costs. If you are looking for heating and air conditioning repair in Canton, GA, that also does ongoing maintenance services, you are in the right place. Our trained HVAC specialists will check the efficiency of your cooling system and suggest corrective steps if any are needed. Our maintenance plans also include furnace service checks before the heating season begins.
Air Conditioning Repair Services
Regular service can ensure your air conditioner is in good working condition. But the need for AC system repair cannot always be ruled out, and there will be emergencies where your unit will need the services of professionals in air conditioning repair. Canton, GA area residents looking for high quality but also speedy cooling system repair service can call Russell Heating & Air. Our HVAC technicians can manage the immediate repair services and are licensed, trained and qualified to get the job done.
Your air conditioner doesn't have to stop working entirely or make a clanking noise to get your attention. There are other signs to remind you that your AC could use some TLC. While there are many do-it-yourself videos for AC service and repair, it is advisable to enlist the help of experts. Even a seemingly simple repair can quickly go wrong, adding damage and expense to the repair. If your AC is showing any one of these signs, it is time to give us a call for a service visit:
Fluid Leaks
Unusual Noises
Insufficient Airflow
Warm Air
AC Thermostat not working
Unusual Odor
Unless your unit's lifespan is over or there is a more complex issue, many of these problems can be easily fixed. Condenser failure, minor electrical issues, and clogged or dirty air filters are the common culprits behind many AC system failures.
If you are looking for quick air conditioning repair in the Canton, GA area, reach out to us today. Russell will help you beat the heat!
Choose Russell Heating & Air: Your Trusted Experts in Air Conditioning Repair in Canton, GA
Russell Heating and Air has been providing high-quality, professional HVAC services to the residents in the Canton, GA area since 2008. Many of our clients have been with us since we first started and even today rely on our on-time and on-budget services for heating and cooling issues. Whether you are looking for residential or commercial HVAC services, you can count on our team of quality, trained technicians who are equipped with the knowledge and tools to provide you with top-tier heating and air conditioning repair.
Canton, GA, is known for its harsh summer weather. You don't just need a working cooling system. You need an AC unit that operates at maximum efficiency without adding unnecessary costs to your bill. Whether you are looking for advice on the best air conditioning unit to buy new, to schedule an HVAC maintenance service check, or need immediate emergency AC repair service, reach out to Russell Heating and Air. We understand your needs and are happy to answer all your questions regarding an HVAC service or repair.