Standard and High Efficiency Furnace
Installation, Maintenance, and Repair
Can you imagine a day without a proper heating system and that too during cold winter nights? Well, it can be a nightmare for some. And so we have a large number of the population relying on high-efficiency gas furnaces. While there are other types of furnaces but the gas-powered furnaces are considered to be more efficient and fast working.
What is a High Efficiency Furnace?
In simple words, gas furnaces are a heating system that works precisely on natural gas. Amongst the other furnaces that are available in the market, gas furnaces are considered to be the most efficient ones. These are powered by natural gas and are a great way to heat the home. The functioning of this type of furnace is simple, the natural gas is used to ignite the furnace, and the heated air is then delivered to your house via the duct system.
High Efficiency Furnace Installation, Service and Repair
If you are planning to install a gas furnace in your house or commercial building, Russell Heating and Air is there for you. Connect with us today, and we will have our team visiting your place for installation.
High-Efficiency Gas Furnace Maintenance Service
You may have got the best gas furnace brand installed at your place, but for its efficient working, in the long run, it becomes important that you go for its regular maintenance. In fact, going for preventive maintenance ensures that the furnace is in good working condition. Moreover, early signs of damage can be deciphered at the time of maintenance and can be repaired. To schedule a visit for maintenance of your gas furnace, connect with us today.
High-Efficiency Gas Furnace Repair
A number of households use standard furnaces to maintain the right temperature in the house. During the winter season, when the mercury drops down below zero, these furnaces come as a savior. It is a simple and easy way to create a comfortable temperature in the house. Whether you are looking for the installation of a new standard furnace or maintenance or even repair of the same, Russell Heating and Air cover it all.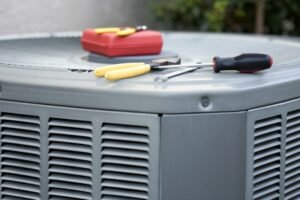 What Are Standard Furnaces?
Modern-day housing needs have evolved with the changing lifestyle of people. Lowering temperature levels can create a freezing environment, which can make it difficult for people to live comfortably with this lowering temperature. Hence more and more people are now installing standard furnaces at their place.
These furnaces are powered by gas, propane or electricity. Irrespective of the model you choose to install, they must be working efficiently to ensure that they optimally work in the cold season.
Standard Furnace Installation, Service and Repair
So, if you have bought a standard furnace (gas, or propane or electric) or if you are planning to get one, we will help you with the installation of the same. Our technicians will drop at your place and will help you with the installation.
Furnace Maintenance Service
Well, you may have invested in a very good quality standard furnace, but it can malfunction if not cleaned and serviced from time to time. You would need the help of a standard furnace repair service provider. We recommend annual tune-up and maintenance of standard furnace to ensure that it works efficiently. We are one of the trustworthy names that have a team of experienced technicians.
Furnace Repair
The standard furnace is rigorously used during the winters, and sometimes it may lead to some damage or malfunctioning due to leakage, overheating, etc. In case you encounter any issue with the furnace and are looking for repair services, you must connect with us. Just call us and we will arrange all services related to the standard furnace repair.