Installation, Maintenance, and Repair
Modern living involves dependence on many products and appliances that have become a part of our lifestyle. One such product is the HVAC system. These heating, ventilation, and air condition systems have become very prominent in commercial complexes owing to their efficient heating and cooling processes. You can find many companies using these systems to maintain the indoor atmosphere pleasant. It ensures the maintenance of the right temperature within the building, and at the same time, keeps pollutants away.
What is a Commercial HVAC System?
Air conditioner ducts can get dirty and become home to disease-causing germs if not cleaned for long. If you have the ducted system installed in your house, it is important that you must find the right company for its maintenance and repair. It ensures that the AC duct works efficiently and without any flaw.
Regular duct cleaning services help you save


on electricity bills and lengthens the life of your duct system.
Why You Need To Clean Your Ducts
Duct cleaning is an important step in ensuring that there are no contaminants in the system. These pollutants are not visible to the eyes, but these may cause some serious health issues. Moreover, sometimes, the duct may have some problems, which can result in blockage to the flow of air.
Ignoring these problems for long may damage the complete system resulting in replacement of the system, which may involve heavy investment. To avoid this problem, you need to go for regular duct cleaning.
Here comes the role of Russell Heating and Air that has a team of certified professionals who will come to you at the scheduled time and will inspect the duct along with the repair of any problem.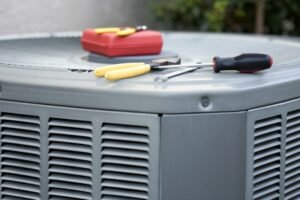 There can be issues in the AC duct system where damages can be caused due to non-maintenance of ducts. These ducts can break, get rusted or tearing of insulation can also occur. Our team specializes in repairing these issues with minimum discomfort to occupants of the house.
Ducted heating and cooling systems have become very popular. These are rigorously used throughout the year and hence become prone to millions of seen and unseen contaminants that can prove harmful for your body. Hence, it becomes important that you must go for regular cleaning and service. There can be a leakage in ducts and vibrations can occur as well due to loose joints.
Repairing any damage to the duct at an early stage would help in keeping the repair cost low. Our HVAC experts are well-versed with the mechanics of the HVAC system, and they ensure complete repair of the ducts without damaging the system at a very low cost.
What Does Duct Repair Include?
The proper function of HVAC is dependent on regular upkeep and maintenance. Regular use of the HVAC system may result in malfunctioning or wear and tear of its parts; this may require regular cleaning and maintenance of the same.
We also recommend preventive maintenance services wherein our team of expert technicians inspect the HVAC system of your commercial space and suggest proper measures. It will eventually help in cutting down the cost of repair and replacement.
Why Russell Heating and Air
If you have still not thought about hiring professionals for duct repair, then it becomes important for you to know that undermining the repair of ducts may not only impact the quality of air but at the same time, it also impacts the efficiency of the HVAC system. So, you must connect with experienced and certified professionals like us.
Russell Heating and Air is the best in the business and has a team of qualified technicians. We provide services for HVAC systems incorporated for both residential and commercial usage. Moreover, our team will also ensure a thorough inspection of the duct system before and after the repair process so that there are no hassles thereafter.
So, what are you waiting for, connect with us today!